The fee for a 50 minute individual or couples psychotherapy session is $140. Group therapy is $75 for 90 minutes.

Confidentiality will be maintained to protect your privacy. According to law and professional ethics, exceptions to confidentiality exist if there is clear and present danger that someone's life may be at risk or if there is suspected child or elder abuse or neglect. Consider also that when insurance benefits are used, the insurance company may have access to a certain amount of information.

Jill Steward is now in Cedar Park as well as Austin. A new practice location has opened at 1464 E. Whitestone Blvd, Building 13, Cedar Park, TX 78613 which is located at the Oakmont Office Park behind Torchys.

The original office is located in Northwest Austin on Spicewood Springs Road which is just west of Mopac between Far West and Steck. A map is provided below. The complex is called Spicewood Forest Office Park. The office is in Building M which is in the very back of the complex and Suite 1 which is the downstairs office.


"It does not matter how slowly you go as long as you do not stop."
Confucius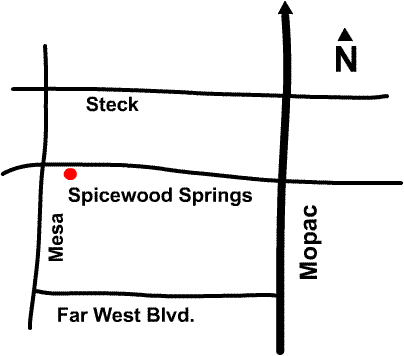 4131 Spicewood Springs Rd
Building M Suite 1
Austin, TX 78759